ABERCARN CONCRETE PRODUCTS
Bridge Street Yard
Abercarn
Newport
NP11 4SE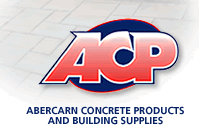 Abercarn Concrete Products is a family run business that has been trading since 1982. The company started off making it's own unique concrete blocks but has expanded the range many times over the years, from the manufacture of coping stones and pillar caps to the wide range of decrotative patio slabs and ornamental features made at present.
Building Materials
At Abercarn Concrete Products and Building Supplies we always strive to provide the best advice service and support for all your building requirements. We can provide a wide range of building materials at competitive prices, and deliver them to you aswell below you will find just some of the ranges we can provide:
​
Paints Fixings Brick Timber

Sealants Blocks Plaster Board Insulation

Roofing Hardware Bagged products Lintels

Metal products Aggregate Chemicals Drainage

CONCRETE PRODUCTS
​
ACP is recognised one of the market leaders of innovative landscape products established 1983.
ACP's commitment to continually design and develop interesting new quality exciting landscape products puts the company at the forefront of the landscape market. A glance though our informative and creative site will give you the landscaper, gardener, enthusiast a wealth of inspiration and ideas.
TURF SUPPLIES
​
We are now able to offer and lay a wide range of quality artificial turfs .Different grades are available depending on your specific needs. Give us a call or call in and see us to discuss further.
​
01495 244538
Opening Hours
​
Monday-Friday

7.30am to 5pm

Saturday: 8am to 12pm

Sunday: Closed
​